Matthew Diemer
COUNTDOWN: 3 Days until Trump... Tomato time?
Updated: Jun 23, 2021
How are you feeling? I really want to know, so please, send me an email, like my page on Facebook , or follow me on Twitter -- I'm active and available on all of those platforms and I can't wait to hear from you! So what are we talking about today? Tomatoes. See, back when Donald Trump was campaigning to be president of the United States, he organized a big tour of rallies (much like he's doing now…), and at a rally in Cedar Rapids, things threatened to get a little messy. https://www.businessinsider.com/donald-trump-crap-protesters-tomatoes-2016-2 TL;DR: Trump heard that someone MAY have brought tomatoes into the rally, where once again he was surrounded by thousands of his fans. He instructed them to "knock the crap out of" anyone if they seemed like they would be throwing tomatoes. He said he would pay legal fees from the inevitable criminal charges that would come from assault, and asked his crowd more than once to defend his honor with violence. Now, I don't think we should be throwing tomatoes at anyone. But I also don't think influential political figures should incite their followers to violence. It's happened again and again at his rallies, and most recently and dramatically on January 6th. The violence that he inspires in his fans is unproductive, divisive, and honestly, terrifying. I worry for my Republican friends and family when they attend these types of events. I worry for my Democrat friends and family when they run into worked-up Trump supporters. I worry for our community when thousands of angry people descend upon it, looking to a leader who thinks nothing of inciting violence and then shirking any responsibility. I worry for the children of Ohio, including my baby nephew. I don't want them to grow up thinking that political disagreement is about throwing punches and waving guns around. Would I love it if someone threw a tomato at me?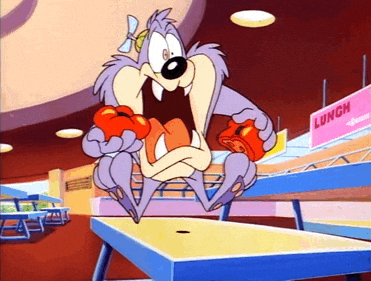 Of course not! But I'd like to think I'd have a sense of humor about it. And I know for sure that I wouldn't encourage anyone to react with violence to a simple, silly act of disrespect. Is it worth the broken bones, the head injuries, the trauma, the terror, the death? Hell no, it's not. Political discourse in this country needs to change. We have become so incredibly divided, that sometimes, it seems like we don't even think of each other as people anymore. But I am committed to hearing everyone out, and respecting individual opinions. I don't expect everyone who supports me to be a nameless, faceless pawn who I can control at will. I don't expect ANYONE to raise their hands in violence in my name. I would never ask, first of all, and secondly, it's just not what I want. It's not just that I believe violence is the last resort of the small-minded. I also believe that it's simply not an effective method for convincing anyone of anything. I am a firm believer in the power of conversations: listening, sharing, and learning. It's who I've always been, it's why I became a podcaster, and it's who I will continue to be as a congressman. Now, let's check out a couple more local Ohioans who are doing their own thing, and making tangible contributions to our community. These are the kinds of conversations that really are worth having! First up, let's start with learning about an amazing group of local activists! SPOTLIGHT ON: ✨🔆💡 Bay Village Nasty Women 💡🔆 ✨
This was a great conversation with a few members of Bay Village Nasty Women, a group that formed in the wake of Donald Trump's disparaging and disrespectful remarks about Hillary Clinton (and pretty much any woman who disagrees with him). These women are amazing! Instead of being destructive with the anger and disappointment they felt in the political climate, they came together to do true, local, grassroots organization to support people who were unsupported under President Trump. I love hearing stories like this, about everyday people who decided to actually take action and do something when they feel disempowered. It's about unity, community, and putting in the work to make a difference. Prepare to be inspired by these everyday-women-turned-activists! Podcast link: https://open.spotify.com/episode/5X7fJrfGmOd9Hol6ABHBqT BVNW on Twitter: https://twitter.com/bvnwresist?lang=en Now, let's learn about a DELICIOUS local business! SPOTLIGHT ON: ✨🔆💡 Cleveland Sweets 💡🔆 ✨
Dima Kash has a classic American story-- born and raised in the United States, moved by her parents to Palestine as a teenager so their family could reconnect with their heritage, then moved back to the states to eventually start a business right here in Ohio! In this episode, Dima shares her story with the kind of frankness and vulnerability that really gives context and depth to the different types of American stories that we all share. She shares insights about daily life in Palestine, how it is growing up between such different cultures, and the transition from being an employee with a stable paycheck to the financial and time commitment of being an entrepreneur, and all of the risks and rewards involved. She also told me about how COVID drastically changed her business in a surprising way. I also got the inside scoop of how Dima, as a small business owner, contributes to our local community in tangible and extraordinary ways, that big box stores can't or won't necessarily do. I loved talking to her, and I think anyone who listens will have a fun time, and learn a lot about the importance of supporting local business, not only by voting with your dollars, but also spreading the word about them. Dima shocked the heck out of me at one point, and you might even get some baking inspiration! Podcast link: https://open.spotify.com/episode/6lUEGTy5pGfA48P3F67sU8 Cleveland Sweets website: https://www.clevelandsweets.com/ Cleveland Sweets Instagram: https://www.instagram.com/clevelandsweets/?hl=en I just love these conversations, and adore the stories that come from them. In an era where there is an abundance of available information, I feel like we sometimes can get lost in data and statistics. (I love data and statistics, by the way, but there's a time and place.) As far as learning about each other, nothing really compares to hearing someone tell their story in their own words. I hope you'll give these amazing stories a listen, and I hope you'll share your story with me too! Please, if you'd like to, reply to this email with your favorite story about your own personal political participation, or how you've helped support your local community. Big or small, every political act we perform as Americans contributes to the whole, and supporting your local community makes the whole world a better place. I would love to hear what you have to say. It may be featured in an upcoming email series or blog post! I would love if you would consider donating to my campaign, to support my grassroots effort to better my local community, and represent the Democrats in Congress. Also, please, connect with me on Facebook, Twitter, or my website . Since I don't have a giant political machine and a ringmaster ex-president behind me, I count on everyday people to help spread the word, just like Dima and other small business owners. If you can't donate but would like to support the cause, liking my page on Facebook helps out more than you know! I know it can feel overwhelming to know we're up against some of the most powerful people in the country, but remember what happened in the story of David and Goliath. We are David, and if we support each other, I know we will come out ahead. Talk soon, Matthew Diemer P.S—I feel lucky to have the honor of sharing the stories of proud, local Ohioans, and I truly hope you'll consider supporting their causes and businesses. However, I want to do more than signal boost: I want to effect real, systemic change that creates a welcoming and healthy environment for entrepreneurial growth and stable manufacturing in Northeast Ohio. I want everyone to feel included and empowered. It's the work I've already begun, and it will grow exponentially once I'm able to effect results from Congress. That's what I plan on doing, but I can't do it without your help. Please, consider joining our grassroots campaign against political Goliaths. Click here to make a one-time donation of $5, $30, $100. Or, even better, think about becoming a sustaining monthly member of our campaign. for $10 a month (the cost of a burger). You would be voting with your dollars to say that you support a local candidate who will give his all for local causes. Thank you for reading. Talk soon. Connect with me! Facebook Twitter Instagram